Excellence Center of Robotic Joint Replacement
HMS Mirdif Hospital is pleased to announce the launching of Excellence Center of Robotic Joint Replacement (Hip, Knee & Trauma Surgery). Book now
Robotic Joint Replacement
Robotic joint replacement surgery has remodeled the manner we tend to perform knee and hip replacements. At HMS Mirdif Hospital - orthopedical Surgery, we've additional expertise with robotic-assisted joint replacement surgery than anyone within the region. This innovative technology permits our doctors to perform a more personalised surgery with larger preciseness than ever before.
At HMS Mirdif Hospital we have the best Orthopedic team in UAE who specialised in Robotic Joint replacements.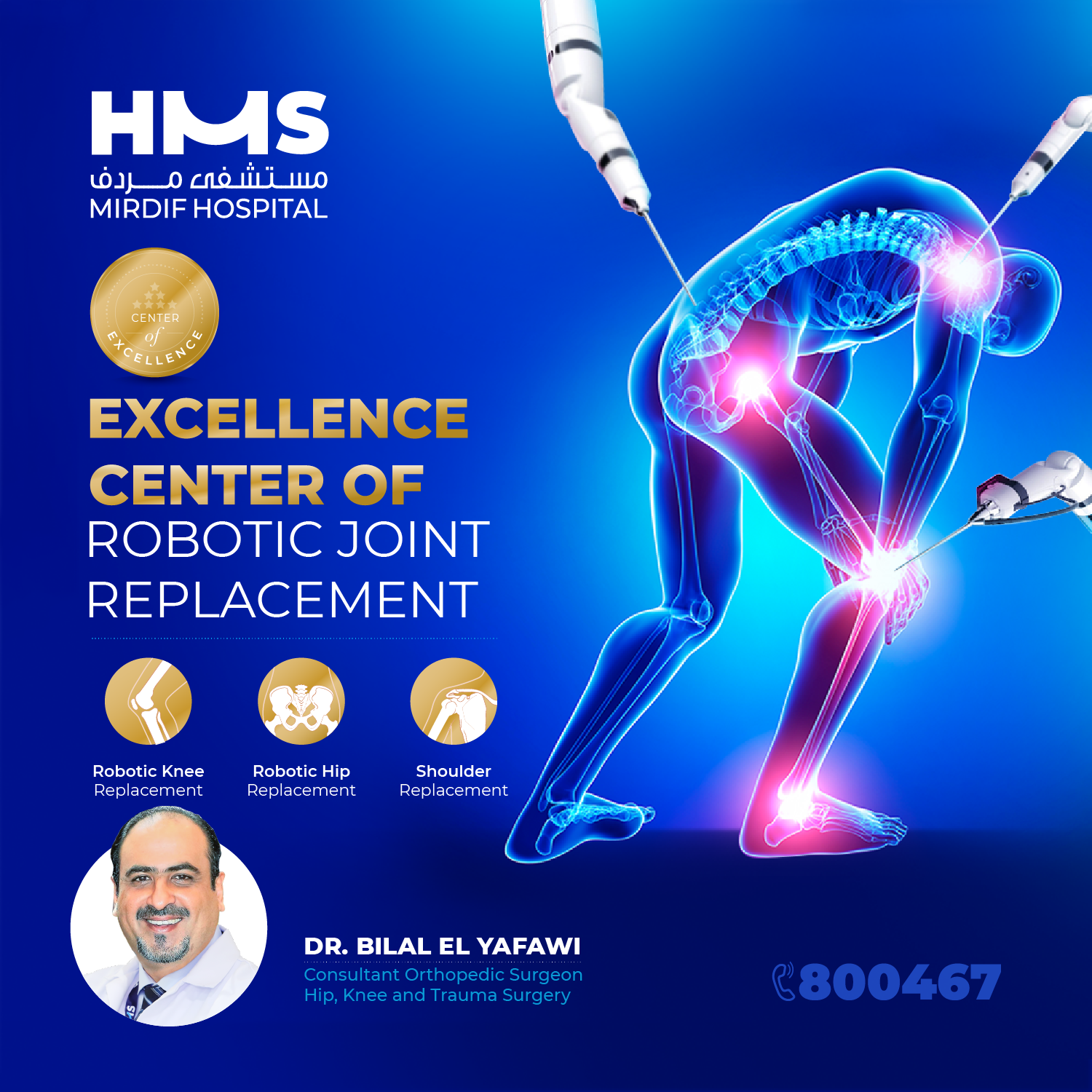 Things have changed since an orthopedic surgeon performed conventional surgeries, relying on the eyeball with its 2D vision to assess the deformity and make the bone cuts. Now you can use high-end robotics with self-learning artificial intelligence to create a live 4D map of the joint, see the ideal position of the artificial implant to place, and then have the robotic tool remove the amount of bone needed to replace the to get the perfect fit of the implant and to protect the natural bone and 
 ligaments.
The technology has progressed from  previous implant placement techniques that used long rods drilled into the central canal of the femur (thigh bone) to provide an attachment point for surgical incision guides for template-less robotic planning and execution.
Who Needs Robotic Surgery and Why?
The following are some of the advantages of choosing robotic joint replacement surgery at HMS Mirdif Hospital:
Robotic surgery is more accurate than traditional surgery for knee and hip replacement, according to research.


Better soft tissue balance: Robotic joint replacement improves soft tissue balance. A precise soft tissue balance allows your joint to bend and flex easily, as well as making the implant more durable.


Training and expertise: Our surgeons have the specialized training required to perform robotic surgery, as well as a level of expertise that is unrivaled in the Lexington area.
Robotic surgery is appropriate for anyone who requires a knee or hip replacement. You and your surgeon will decide on the best type of surgery for you.
Robotic surgery is used for the following procedures:
Partial Knee replacement surgery 
Total Knee replacement surgery 
Hip replacement surgery
What Exactly is a Robotic Knee Replacement?
A robotic knee replacement works in the same way as a traditional knee replacement. Your surgeon replaces damaged tissue in your knee with an artificial joint. The distinction is that it is accomplished with the assistance of a robotic arm or handheld robotic device (depending on the robotic system used for your surgery).
Robotic-assisted procedures enable greater precision and can result in shorter recovery times and better outcomes. In more complex cases, a robotic-assisted knee replacement provides better soft tissue balance and alignment of the joint.
You don't need to prepare any differently for robotic-assisted knee replacement surgery than you would for a traditional surgery.
For the majority of patients, robotic surgery provides numerous advantages, including:
Reduced post-surgery pain.
There is less blood loss.
Scars are fewer and smaller.
Improved precision for more precise joint replacements.
Recovery time is reduced.
Reduced hospital stay.
Infection risk is reduced.
What Are the Benefits of Robotic Knee Replacement?
When compared to traditional surgery, robotic-assisted knee replacement has several advantages.
Among the benefits are:
Improved surgical planning. Specialized 3-D images are taken in preparation for or during surgery, depending on the robotic option that is best for you. These images assist your surgeon in better planning the optimal type and placement of your replacement joint to ensure proper size and fit.


Increased precision. Robotic technologies help your orthopedic surgeon plan more precisely, remove tissue, and place implants. This can result in shorter recovery times, fewer complications, and a lower risk of revision surgery.


More options for ligament preservation. Ligament-sparing total knee replacement surgery is now available to more patients than ever before, thanks to the added precision and accuracy of the robotic-assisted knee replacement system.
What is Robotic Hip Replacement
A robotic hip replacement is comparable to a standard hip replacement in that it replaces the hip joint. The diseased tissue in your hip is removed and replaced with a prosthetic joint by your surgeon. The only difference is that it's being done with the help of a robotic arm. Robotic-assisted surgeries allow for more precision and may result in faster recovery and better outcomes.
The Advantages of a Robotic Hip Replacement
When compared to traditional hip replacement surgery, the following are some of the advantages of robotic hip replacement surgery:
Surgical planning that is better
Enhanced precision
Joint alignment that is optimal
Who needs Robotic Hip Replacement Surgery?
If non-surgical methods have failed to relieve hip pain that is interfering with your everyday activities, you may be a candidate for robotic hip replacement surgery.
You're probably a candidate for robotic-assisted hip replacement if you're a candidate for standard hip replacement. Your doctor will consult with you to decide the best course of action for you.


Request an appointment online or call us at 800467